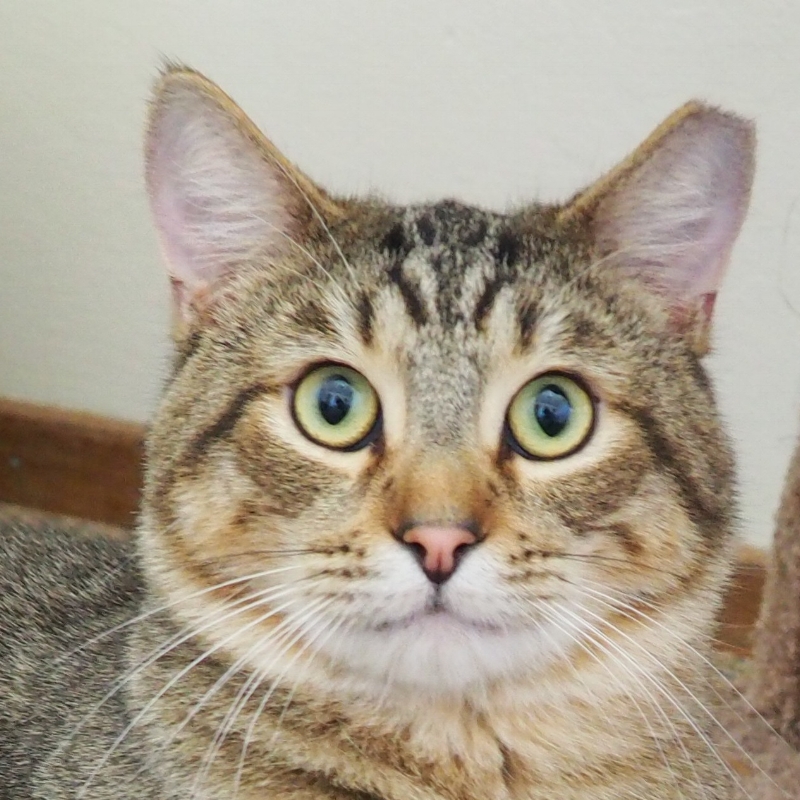 Many communities tip the left ears of males and the right ears of females.
What are community cats?
Community cats—also referred to as feral cats—are cats who have either never had any contact with people or their contact with people has diminished over time. They are not socialized to people and survive on their own outdoors in family groups called colonies. Most community cats are not likely to ever enjoy living indoors.
What is TNR?
Trap-Neuter-Return (TNR) is a humane and effective approach to controlling populations of community cats.
In TNR, cats/kittens are trapped and taken to a local shelter or veterinarian to be neutered, vaccinated & microchipped. After recovery, feral cats that are not socialized to people are returned to the outdoor location where they were trapped.
Friendly cats/kittens socialized to people may be adopted into homes.
Benefits of TNR:
Stops reproduction of kittens

Colonies diminish in size over time

Eliminates unwanted behaviors such as roaming, yowling, spraying, and fighting

Cats' physical health improves

Sustainable and effective (vs. relocation)

Saves lives, reduces shelter costs & crowding

Creates opportunity for community outreach & education
Before you Trap
Identify the area where cats spend their time. Depending on the location and how the neighborhood feels about the community cats you may want to communicate your plans; find out who may be feeding and when or keep it low key so not to draw attention to cats. Use your best judgement.

If cats are being fed, coordinate on trapping plans.

If no one is feeding, start feeding on a regular schedule and in a designated area for a week or 2 before trapping.

Borrow/rent traps:

Create a trapping plan, including transport, care and recovery and returning the cats. It's best to return cats at the time that you normally feed.

Withhold food the day/night before you trap, or arrange this with feeder(s) if applicable. Always give water. Do not withhold food from kittens, moms, or sick/injured cats.

Prepare transport vehicle by lining the area with puppy pads, large trash bags, or a plastic tarp.

Bring prepared traps to location being careful not to spook the target cats.

Clear a small area in your garage where you can hold the cats overnight until the spay surgery and after surgery recovery.
Trapping tips
Trap at the cats' regular feeding time.

Line traps with pee pads or thick newspaper (tape if windy).

Bait in the back corner.

Trail bits of bait from the front to the back of the trap; also "breadcrumb" some bait outside of trap. (A laser pointer can also help trap the cat.)

Confirm that the back door is latched properly.

Set traps on the level ground along bushes or fence line and watch/listen from afar (undisturbed). You may have to drive away and sneak back (cats are less suspicious if they hear you leave the area).

Cover trapped cats immediately to calm the cat and remove from feeding area.
Check cats' undersides for nursing/ lactating mom; if so, rethink your plan and possibly release.

Check for ear tips or notches; sometimes a battle wound on the ear might look like a ear notch, so don't assume.

Check cats for any wounds, abscess, or green/yellow discharge in eyes or nose. You want to make note of this and verbally tell the vet staff so that it can be checked out and treated while cat is sedated.
Transport/after surgery
Transport cats to vet/clinic/shelter for spay/neuter. It's critical to provide precise location where the cat was trapped on all intake paperwork and for the microchip record.

After surgery, keep cats in covered trap at all times in a safe indoor location (garage, bathroom, car); must be temperature controlled.

Feed cats once they are settled for the night (depends on time since surgery).

Monitor cats for anything abnormal (bring cats back for recheck if necessary).

Obtain & keep all medical service paperwork.
Returning cats back to location
Return cats to the exact location after 1 night (male) or 24 hours (female).

Set covered trap down at site for a few minutes so the cat can get familiar with surroundings.

Face the trap in safe direction, away from traffic, etc.

Leave food and water.

The best time to release is when you feed, or when it's quiet.
Note: you may not see cats for 2-3 days after releasing
Difficult cats
Come back in a few days or a week and try again.

Try covering the traps with a towel, leaving both ends uncovered.

Try a different bait.

Try trap desensitization- feeding the cats in open traps for a few days (trap doors are open and secured w/zip tie or bungy cord). Cats won't see the trap as a threat or be suspicious.

Difficult cats may require other trapping methods such as using a drop trap - ask for help from an experienced TNR volunteer.
Next steps
Clean traps well with bleach after trapping.

Follow best practices for colony care maintenance if you are able to continue feeding cats. Try to find a feeder if you can't.

Monitor the colony for any newcomers or untipped cats so you can trap them as well.

Volunteer to trap w/local rescue organization.
Clean, tested traps (if there are kittens use Tru-Catch)

Towels or sheets large enough to cover each trap entirely

Newspaper/pee pads to line traps & tape

Hand sanitizer or handi-wipes

Smelly bait (tuna in oil, wet cat food, sardines, KFC)

Can opener and plastic spoon for bait

Flashlight and/or headlamp

Tarp/plastic garbage bags/pee pads to protect vehicle

Trapping fork and binoculars are very useful

Reading material; trapping takes patience
important points
Kitten safety first: use the correct traps /method (manual trigger).

Practice setting traps at home until you're confident.

Leave nursing kittens with their mom until weaned (6-8 weeks) if possible and if safe for the cats.

Trap kittens when 6-8 weeks; Always trap in pairs so no kitten is left solo (kittens always need a sibling).

Relocating cats is against the law & it puts cats' lives in danger.

If possible, feed on a schedule for 2 weeks prior to trapping (place station appropriately).

Never leave traps unattended (cats are completely vulnerable in a trap).

Count traps before/after so as to not to leave any behind.

Check trapped cats carefully for lactation, injury/illness, or ear tips.
Left ear tip indicates male.
caring for community cats
Follow responsible feeding protocol:
Have a consistent feeding spot out of public view.

Do not put out more than the cats will eat in one meal.

Pick up leftovers after 30 minutes; clean the area well.

Overfeeding creates risk for the colony and wastes your resources, attracts non-colony cats and other wildlife, draws ants, and creates mess that causes complaints.

Provide shelters/litter box areas if possible; it can help prevent complaints from public about cats trespassing.
local resources
For residents of San Jose/Cupertino/Los Gatos/Milpitas/Saratoga

Cats must weigh at least 2 lbs

Feral Freedom Program: Free if you surrender cat in trap (no appt. needed, drop off 7AM-9PM, 7 days/week)

Includes FVRCP/rabies vaccine, de-worm, de-flea, microchip

You must request if you want to pick up your cat to release; otherwise will be returned to trap site by Feral Freedom volunteers

Low-cost spay/neuter clinic for pet cat is $25 (no appt. needed, drop off 7:30AM to 8:30 AM – Tues., Wed. and Thurs)
Humane Society of Silicon Valley
Cats must weigh at least 1.5 lbs (call to verify weight requirement)

Spay/neuter by appointment only - Up to 2 cats per person per day, Mon. - Sat.

Free for Santa Clara County residents; $50 out of county
Silicon Valley Animal Care Authority
For residents of Santa Clara, Campbell, Monte Sereno & Mountain View

Free if you surrender cat to be returned by Feral Freedom volunteers (no appt. needed). Drop off time is Tuesday -Thursday 8:00am-5:00pm)
Santa Clara County Spay/Neuter Program
For residents living in Morgan Hill, Gilroy, and unincorporated Mountain View

Cost: $10 for feral cats or $25 for pet cats

All other cities in Santa Clara County pay the difference less $30 voucher toward the procedure.

Participating Vets: Canyon Creek, SJ Animal Hosp. St Francis - check website
Other helpful resources
Information about barn Cats
If you are interested in adopting a barn cat (or two) to help with rodent control on your property, contact us as we are able to facilitate these adoptions.
The Dancing Cat supports our community by providing food, veterinary care and other supplies to members in our community who feed, trap and care for community cats. 
Individual volunteers, everyday people just like you, care for these cats. 
Your donation will allow us to help them.